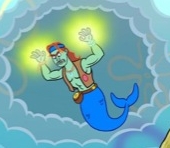 Triton is the son of King Neptune and Queen Amphitrite. He just appears in the episode: The Clash of Triton. He was trapped in the Island in the Sky for 10,000 years. He is voiced by Sebastian Bach.
Triton has long orange-brown hair and a brown vest. He also has a blue headband on his head. And he has green skin.
Neptune locked his son in a cage over a desert island. When SpongeBob lets him out, he is seeking revenge against his father. Later, the two reconciled their differences with each other and hugged after Triton destroyed a lot of the town. And the citizens of Bikini Bottom put the blame upon SpongeBob and Patrick for the destruction that happened.
Ad blocker interference detected!
Wikia is a free-to-use site that makes money from advertising. We have a modified experience for viewers using ad blockers

Wikia is not accessible if you've made further modifications. Remove the custom ad blocker rule(s) and the page will load as expected.