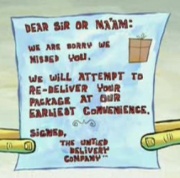 The United Delivery Company is seen in the episode: Have You Seen This Snail?. It's possible many Bikini Bottomites use this delivery company. In that episode, SpongeBob waits for a delivery from them, the Mermaid Man and Barnacle Boy Paddleball Set. Not much is known about this company. The company is probably related to UPS or Fedex.
Ad blocker interference detected!
Wikia is a free-to-use site that makes money from advertising. We have a modified experience for viewers using ad blockers

Wikia is not accessible if you've made further modifications. Remove the custom ad blocker rule(s) and the page will load as expected.