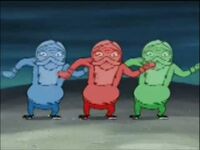 The Power Within is a video that SpongeBob brought to the Flying Dutchman in the episode: Ghost Host.
The video is things and people saying "The Power Within" over and over. Near the end, a man says the power within and multiplies (see the picture) in different colors. And he picks up a sandish like substance and screams, "The Power Within!" and says Yeah. It is unknown if there is more of the video.
This video has only been ever seen one time in the whole series.
Ad blocker interference detected!
Wikia is a free-to-use site that makes money from advertising. We have a modified experience for viewers using ad blockers

Wikia is not accessible if you've made further modifications. Remove the custom ad blocker rule(s) and the page will load as expected.