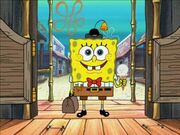 SpongeBuck SquarePants was an old Western hero that lived in Dead Eye Gulch. He is SpongeBob's great great great great great grandfather. He sometimes hangs out at the Krusty Kantina. He rescued Dead Eye Gulch from being taken over by Dead Eye Plankton. He is best friends with Pecos Patrick. Both ancestors seem to have the characteristics of the present SpongeBob and Patrick. SpongeBuck only appears in the episode Pest of the West.
Looks/Interests
Edit
SpongeBuck is a Sponge, and looks very similar to SpongeBob. The only major differences are that SpongeBuck has a bow-tie, a black bowler hat with a bell, a striped shirt and a pocket watch (tucked into his pocket, the chain hangs loose). SpongeBuck was fairly easy to please, and he loved to Spurskate.
Trivia/Goofs
Edit
Ad blocker interference detected!
Wikia is a free-to-use site that makes money from advertising. We have a modified experience for viewers using ad blockers

Wikia is not accessible if you've made further modifications. Remove the custom ad blocker rule(s) and the page will load as expected.