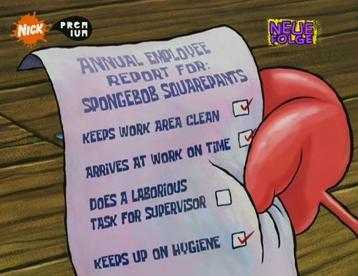 SpongeBob's Annual Employee Report Card just appears in the Episode: Overbooked. SpongeBob has to help Mr. Krabs to build his own Telescope at the evening at Mr. Krabs' House. But, at that evening SpongeBob has to go to Patrick's Birthday Party and Sandy's Presentation. Mr. Krabs says to SpongeBob that he didn't tick all of the boxes on his Report Card. It was the "Does a Laborious Task for Supervisor" box.
SpongeBob's finished Jobs
Edit
Keeps Work Area Clean
Arrives at Work on Time
Keeps up on Hygiene
Ad blocker interference detected!
Wikia is a free-to-use site that makes money from advertising. We have a modified experience for viewers using ad blockers

Wikia is not accessible if you've made further modifications. Remove the custom ad blocker rule(s) and the page will load as expected.