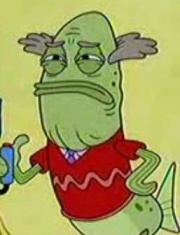 The Photographer so far just appears in the Episode: Picture Day. He takes all the pictures of the people in boating school.
The Photographer is a green fish with a red jumper and a white shirt under the jumper, and also a purple tie. With it, he also has grey hair.
Character
Edit
He seems to be impatient and strict. To help people smile he puts a giant set of false teeth in their mouth which makes them do the biggest and freakiest smile ever.
Ad blocker interference detected!
Wikia is a free-to-use site that makes money from advertising. We have a modified experience for viewers using ad blockers

Wikia is not accessible if you've made further modifications. Remove the custom ad blocker rule(s) and the page will load as expected.