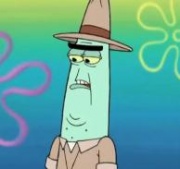 Mr. Ranger is the Ranger who works at Jellyfish Fields. He appears every morning and afternoon to either open or close Jellyfish Fields. He just appears in the episode SpongeBob's Last Stand. His real name is unknown, because SpongeBob just calls Mr. Ranger.
Ad blocker interference detected!
Wikia is a free-to-use site that makes money from advertising. We have a modified experience for viewers using ad blockers

Wikia is not accessible if you've made further modifications. Remove the custom ad blocker rule(s) and the page will load as expected.