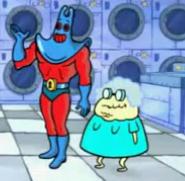 Mable is a old lady at Shady Shoals. She dated Man Ray in high school and went to the prom with him. She is sometimes married to Old Man Jenkins or Dennis. Her name is mentioned in Shuffleboarding. She called Man Ray just Ray sometimes. She is a very commonly seen fish with wrinkles, white hair and glasses.
Ad blocker interference detected!
Wikia is a free-to-use site that makes money from advertising. We have a modified experience for viewers using ad blockers

Wikia is not accessible if you've made further modifications. Remove the custom ad blocker rule(s) and the page will load as expected.