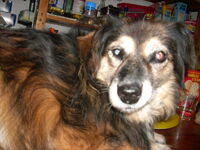 Gizmo was a truly loved dog. Born on the 6-8-96, and died on the 17-10-09. She was a brown and black dog, and had a sister called Timmy and about 8 lovely puppies. All of the puppies were sold exept her puppy called Dobby. She was the dog of the User, Terminator234. May you Rest in Peace, Gizmo!
Ad blocker interference detected!
Wikia is a free-to-use site that makes money from advertising. We have a modified experience for viewers using ad blockers

Wikia is not accessible if you've made further modifications. Remove the custom ad blocker rule(s) and the page will load as expected.