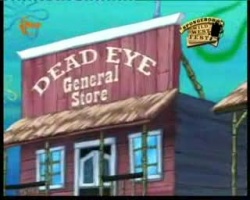 The Dead Eye General Store just appears in the Episode: Pest of the West. It looks like just any normal Supermarket and it doesn't look anything close to the Barg'n Mart and the Bikini Bottom Mall, where the people in Dead Eye Gulch can buy stuff like in normal life. In the Episode, the shop is just one of the Cameo-Places around a town.
Ad blocker interference detected!
Wikia is a free-to-use site that makes money from advertising. We have a modified experience for viewers using ad blockers

Wikia is not accessible if you've made further modifications. Remove the custom ad blocker rule(s) and the page will load as expected.