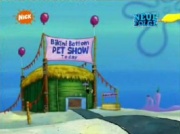 The Bikini Bottom Pet Show is a event just happens in the episode: Grooming Gary. This is organized by the "Bikini Bottom Kennel Club", Owners bring their pets, mostly snails and worms, to compete against one another. The one with the best pet gets a trophy. The judge looks at the snails and worms to see if it is good enough to have a chance of winning, like the "Esil stocking", "hen jackson", "Excellent bow stretch", "Eyelid capalberries", "digestive chamber", and the "check the under carrige".
chronological
Ad blocker interference detected!
Wikia is a free-to-use site that makes money from advertising. We have a modified experience for viewers using ad blockers

Wikia is not accessible if you've made further modifications. Remove the custom ad blocker rule(s) and the page will load as expected.