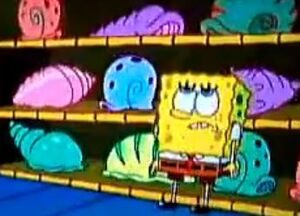 Angry Jack's Shell Emporium is a shell shop that is in Bikini Bottom. Angry Jack works there. SpongeBob SquarePants and Gary went there after Gary's shell cracked .All the shells were later destroyed by SpongeBob.
Known Employees
Edit
People That Have Been There
Edit
Appearances
Edit
Angry Jack's Shell Emporium has only appeared in the Episode: Shell Shocked.
Ad blocker interference detected!
Wikia is a free-to-use site that makes money from advertising. We have a modified experience for viewers using ad blockers

Wikia is not accessible if you've made further modifications. Remove the custom ad blocker rule(s) and the page will load as expected.